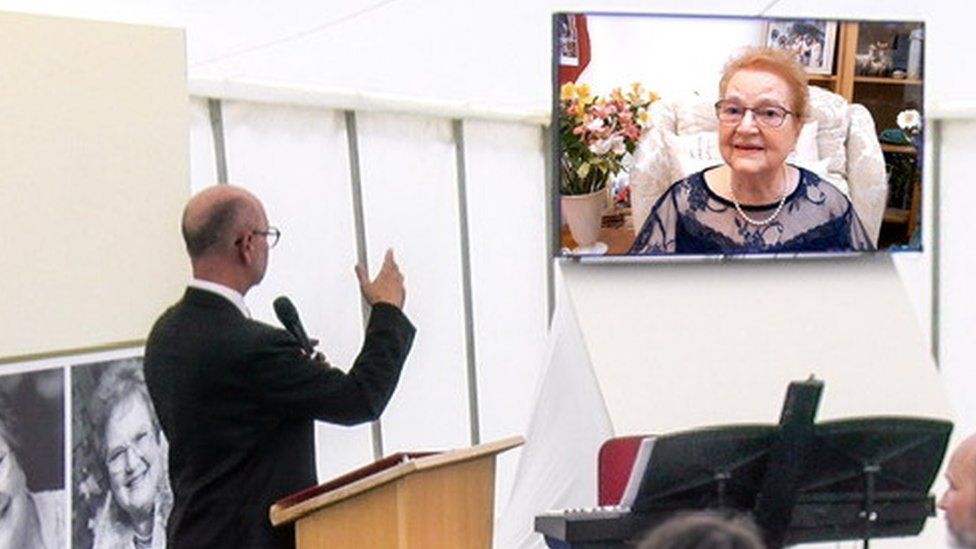 Holocaust campaigner Marina Smith appeared able to answer questions at a funeral celebration of her life, thanks to new technology – her son has said.
Mrs Smith died in June, aged 87, but video technology, built by her son's firm, meant those attending her funeral could watch her respond to their questions about her life.
Stephen Smith said it enabled his mother to be "present, in a sense".
His company predicts many uses for its "conversational video technology".
Mr Smith, the chief executive and co-founder of StoryFile, told the BBC the technology meant, once a person had died, it was possible to have a conversation with them "as if they are there, and they will answer you".
His mother's words were her own, and not the creation of artificial intelligence (AI), Mr Smith stressed.
Source: BBC news
Date: September 7th, 2022
Link: https://www.bbc.com/news/technology-62552696
Discussion
The technology behind this is here: https://storyfile.com/ You can "chat" with William Shatner, of Star Trek fame. You can ask questions like "how old are you?" and StoryFile will show William Shatner giving you the answer. It is worth showing this in class.
How does this technology work?
Here's what StoryFile says, in part: "StoryFile's conversational video uses AI to help the process of matching and retrieving video content provided by our customers. Our commitment is to them. We do not change or manipulate any content that was not said, or recreate the image in ways that were not originally intended by the customer or creator. "
It seems to me that StoryFile asks a person a bunch of questions which are stored. You can ask a question, and the AI listens to your question, and figures out which answer is best and pulls up that video answer.