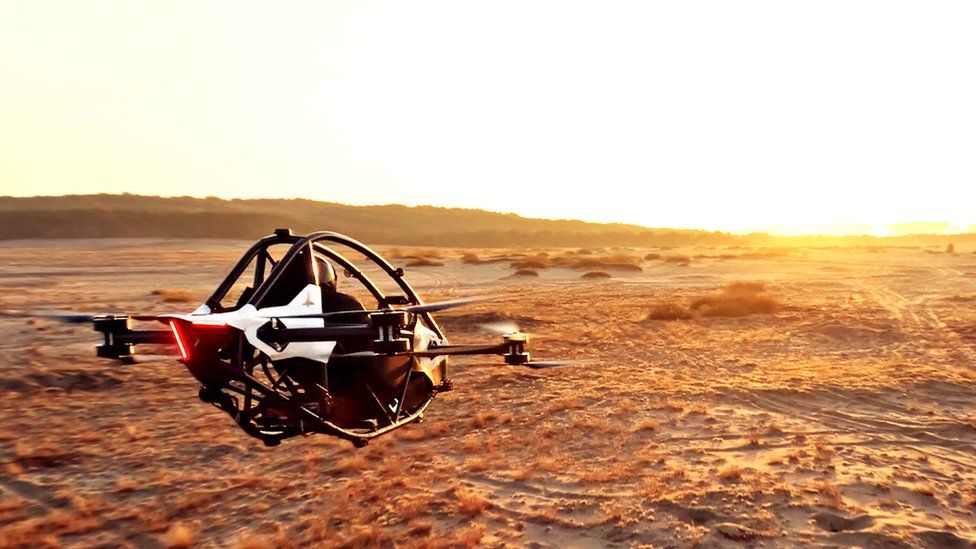 Peter Ternstrom was about nine years old when he first saw the movie, Return of the Jedi, at the cinema. The scene in which Luke and Leia take to hover-bikes on a high-speed chase through a forest left a particular impression on him.
"Absolutely, that has been an important inspiration for me," says Mr Ternstrom, who co-founded Swedish firm Jetson with Tomasz Patan.
Recently, his company released a video of its prototype personal flying machine, the Jetson ONE, in action. The clip quickly clocked more than 12m views on YouTube in about four weeks.
The filming location, a desert-like area, was deliberately chosen for its sci-fi feel. It is actually a military training ground in Poland.
A helmeted pilot sits in the centre of what looks like a large drone, with its multiple spinning rotors. The craft zooms across the landscape, blowing up dust.
This is an electric vertical take-off and landing vehicle, or eVTOL. Personal eVTOLs are among the smallest rideable aircraft around and generally have capacity to transport just one passenger – the pilot.
Source: BBC Technology
Date: February 7th, 2022
Link: https://www.bbc.com/news/business-59372326
Discussion
What sort of business could you build around this technology? (think beyond just using the drone….drone mechanics, logistics of using drones…)
What are the MIS issues surrounding this technology?