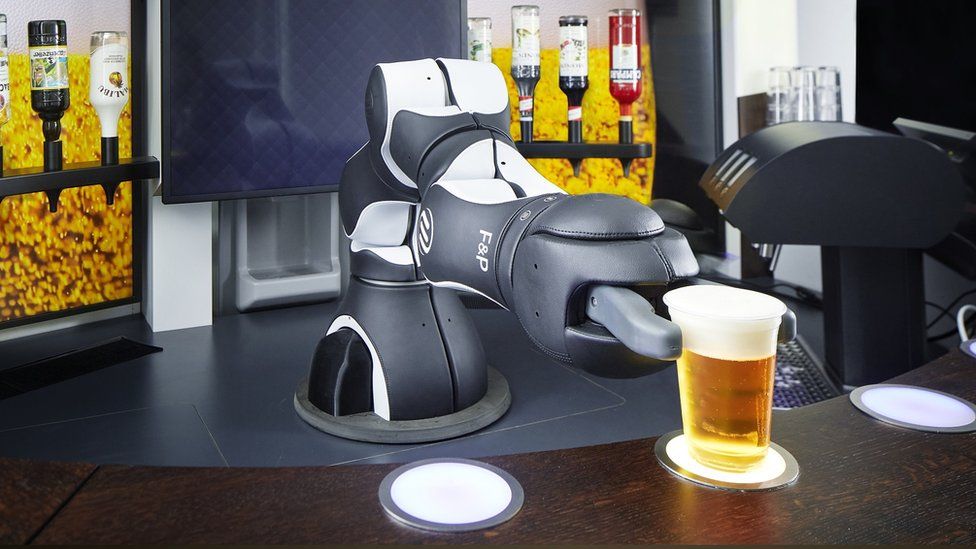 Soon, however, those bar staff might not even be human. Enter Cecilia, a robotic bartender that mixes and serves cocktails, and uses artificial intelligence (AI) to talk to customers in much the same way that Alexa, on an Amazon Echo speaker, or Siri, on an iPhone can respond to you.
The unit looks a bit like a tall fruit machine, only with an animated female barmaid – Cecilia – appearing on a large, upright video screen. You either tell her what cocktail you want, or order it on the below touch-screen, and pay for the drink by tapping your bank card or phone.
Source: BBC Technology News
Date: November 15th, 2021
Link: https://www.bbc.com/news/business-59246183
Discussion
What are some issues behind having a robot bartender?
UK pub chain JD Wetherspoon is certainly not interested in buying a fleet of robots to work behind its bars. "In a word – no," says a spokesman for the firm. "Wetherspoons would never do this."
What's going on here, and why are some saying "yes" to robots and others saying "no"?