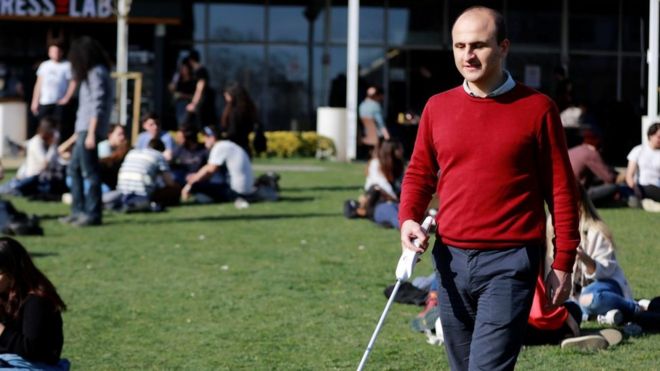 When Kursat Ceylan, who is blind, was trying to find his way to a hotel, he used an app on his phone for directions, but also had to hold his cane and pull his luggage.
He ended up walking into a pole, cutting his forehead.
This inspired him to develop, along with a partner, Wewalk – a cane equipped with artificial intelligence (AI), that detects objects above chest level and pairs with apps including Google Maps and Amazon's Alexa, so the user can ask questions.
Jean Marc Feghali, who helped to develop the product, also has an eye condition. In his case his vision is severely impaired when the light is not good.
While the smart cane itself only integrates with basic AI functions right now, the aim is for Wewalk, to use information gathered from the gyroscope, accelerometer and compass installed inside the cane. It will used that data to understand more about how visually impaired people use the product and behave in general to create a far more sophisticated product using machine learning (an advanced form of AI).
Source: BBC Technology News
Date: March 3rd, 2020
Link: https://www.bbc.com/news/business-51632840
Discussion
Given what the "Wewalk" can do, how else could you apply this same technology?
" Currently, AI used in everyday life consists of either automating or optimising things that humans can do – whether that is detecting fraud by analysing millions of transactions, sifting through CVs to select the right candidates for a job, or using facial recognition to enable people to get through some form of security. " In the context of the Future of Work, how does this change what you might do in the future?