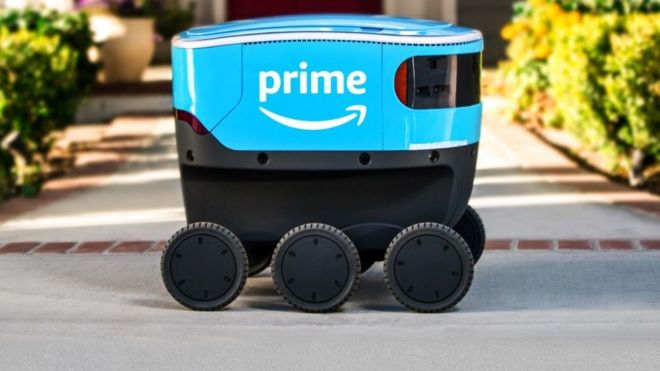 Amazon is experimenting with delivery robots, starting with a little truck called Scout which is taking to the pavements in Washington State.
Six of the autonomous electric trucks will deliver parcels "at walking pace" round Snohomish County.
The robots will only operate during the day and will be accompanied by an Amazon employee initially.
It is the latest in a series of trials of pavement robots, seen as being a good alternative to road deliveries.
"We developed Amazon Scout at our research and development lab in Seattle, ensuring the devices can safely and efficiently navigate around pets, pedestrians and anything else in their path," said Amazon vice-president Sean Scott on the company's blog.
Source: BBC Technology News
Date: January 24, 2019
Link: https://www.bbc.com/news/technology-46987779
Discussion
1) What problems, if any, do you see with a robot delivery system like this?
2) It is currently snowing in Missoula, Montana.  How would this work in the snow?