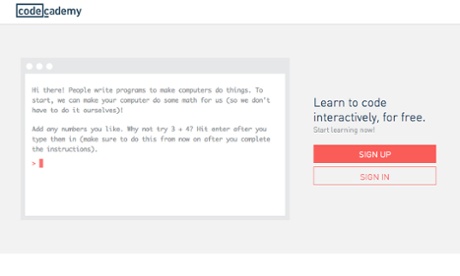 Discussion:
Codeacademy's goal is to develop a fun and easy way for people to learn programming skills. "People like chunked, smaller events of learning, and they like building real projects – on our new course, people can build the Airbnb website. We're not just teaching theory: we're teaching people to actually build something."

The company is seeking to expand it's reach, and currently has more than 70% of its users are outside the United States. They are opening the first international office in London, after 2 million Britons signed up for its online course.
"The company also recently redesigned its website to be more accessible to fledgling programmers, while also offering more courses designed to be of practical use in their real careers, rather than simply teaching core skills."
Source: theguardian
Date: March 22nd, 2014
Link: http://www.theguardian.com/technology/2014/may/22/codecademy-uk-children-coding-skills-programming-us-startup
Questions for discussion:

Have you heard of this site before?
Do you wish you would have learned how to program in High School? Why or why not?
Do you hope that your children will learn how to program in Elementary School? Why or why not?